Run/Walk Track
Indoor 443-meter Track Run/Walk Track (and Cross Training Area) Presented by WINTRUST, Wisconsin's Bank
Admission Fees
Single Admission: $4

Multi-visit Discounts Available
Please note: During speedskating competitions or speedskating time trials, lanes may be partially blocked by timers or equipment
Notes
The Track Schedule on our website is the ONLY place to get accurate hours. Google, Yelp, Facebook, etc. are not endorsed by the Pettit Center. If a day or time is not listed then the track is closed. We ONLY publish when the track is OPEN.
Details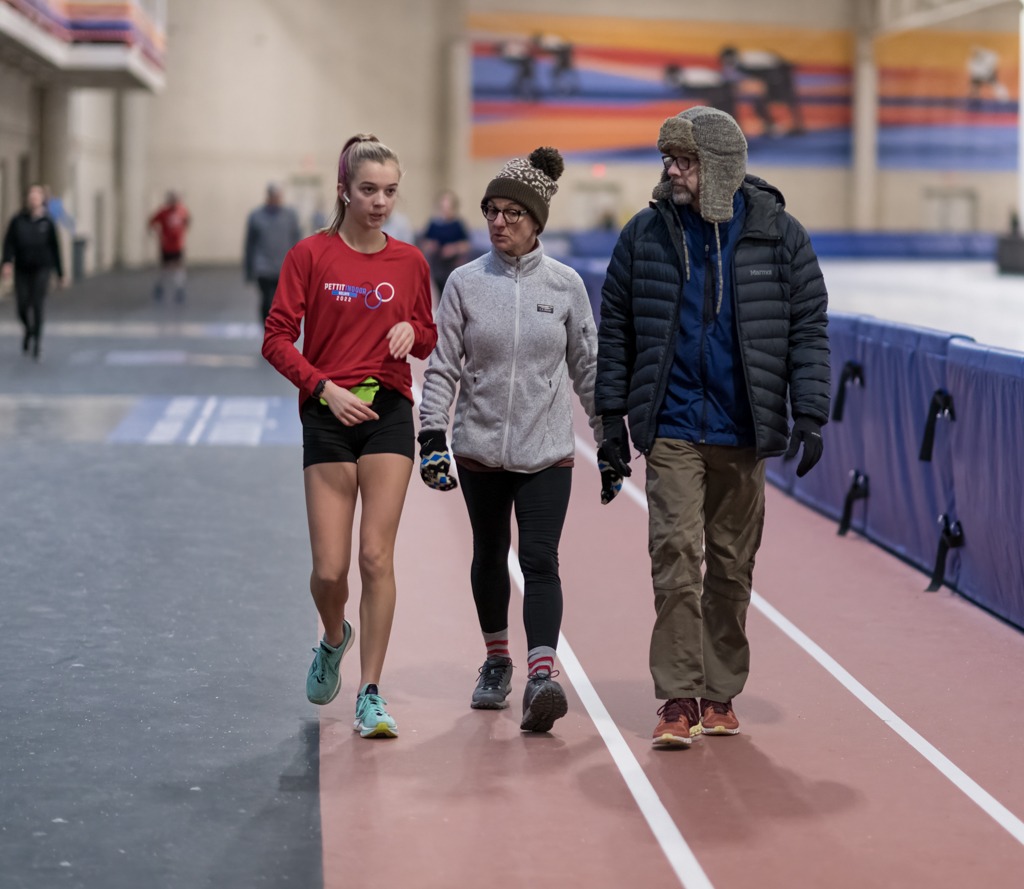 Save money
Account Cards
Account cards never expire and can be reloaded at any time with run/walk track admissions.
10-pack: $36.00
25 Pack- $83.00
50-pack: $150. (Save $50 with the new 50-pack!)
Annual pass: $350

Official Home
Badgerland Striders
The Pettit National Ice Center is the Official Home of the Badgerland Striders, Wisconsin's largest running club. The Badgerland Striders are Wisconsin's oldest and largest running club. We have been running since October 1, 1959 and our membership, which is a FAMILY membership for novices and seasoned runners, contains over 2,000 running individuals and families.
Run/Walk Track Guidelines
Register and pay at the Admission window. Make sure the wristband is visible. Those not wearing wristbands may be asked to show it. Non-payers will be told to leave.
Do NOT stand or stop on the track at any time! Please step off of the track, if necessary. Be aware of others exercising on the black cross-training area, next to the run/walk track.
Inside lane is for faster runners. Outside lane is for slower runners/walkers. Be in the correct lane.
Be aware and respectful of others on the track. Allow faster individuals to pass on the inside.
When approaching a slower person, a faster runner is requested to inform the slower person well in advance by saying clearly "Track" or "On Your Inside". The slower person should be in, or is requested to move to, the outer lane to give space for faster runner to pass safely on the inside.
Do not create an obstacle for faster runners/walkers by walking two or three abreast on the track.
Leave No Trace, please. Never spit or blow your nose on the track. Use the proper garbage containers for trash. Keep it clean for other runners/walkers.
Use of strollers are not allowed on the run-walk track during peak times. Generally speaking, people who are running/walking with a stroller are encouraged to come Monday through Friday, 7:30am-2:30pm and Saturday/Sunday after 1pm. Please call in advance to confirm track capacity. The Pettit Center reserves the right to not allow strollers at any point for safety reasons. Double wide strollers are never allowed.
All track users must wear shoes- no bare feet on the track or cross training surfaces
NO spiked shoes are allowed. Only non-marking athletic shoes.